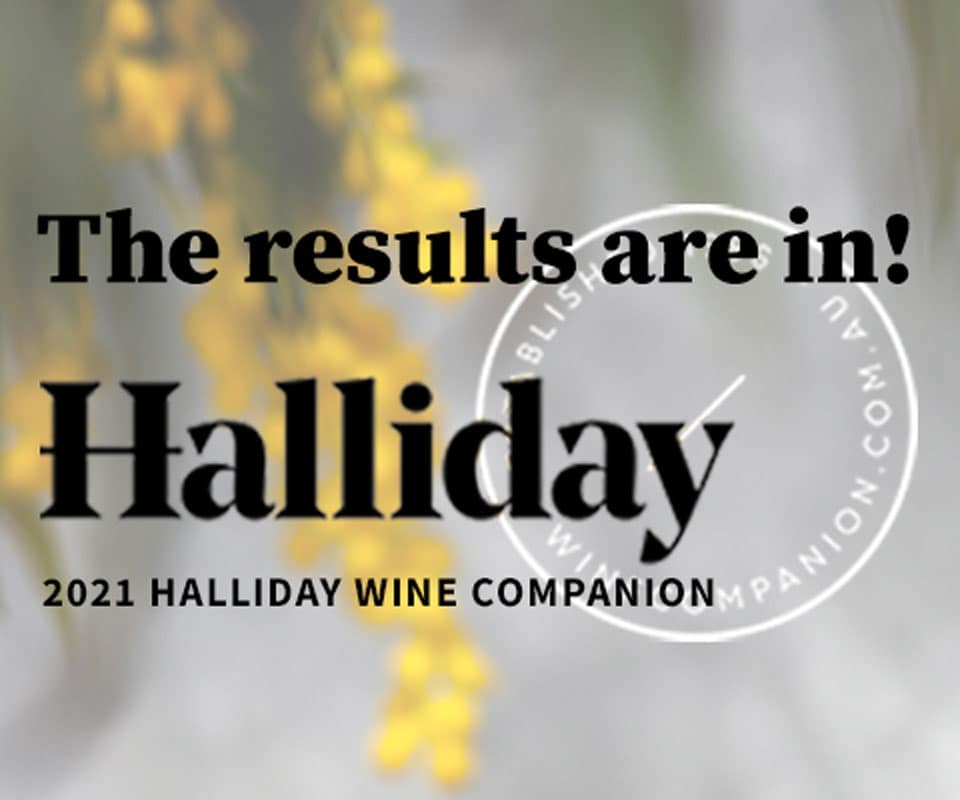 We're so excited to share that we were again awarded a 5 Red Star winery rating, along with incredible scores across our wines. Our Reserve wines received top scores of 97 points. 
Congratulations to our passionate winemaking and viticulture team: Glenn Goodall, Brendan Carr, Steve Kyme, Suzie Muntz and Darren Rathbone!
97 points | 2018 Reserve Chardonnay
Fruit from the oldest chardonnay vines on the property, fermented wild in barrel, no mlf at all. It puts a fresh face on power, it puts succulence into length, it puts botanical nuances into pristine varietal flavour. The x-factor here is quite pronounced.
97 points | 2017 Reserve Cabernet Sauvignon
With 95% cabernet sauvignon, 5% malbec. It's a best barrels selection with the final blend seeing 45% new French oak. This takes quality by the scruff of the neck. It's seriously good cabernet: firm, flavoursome, tidy, balanced and long. It has excellent concentration, a thick mesh of tannin and enough nuance for you to know that more is to come. You could build a cellar around a wine like this.
96 points | 2019 DJL Sauvignon Blanc Semillon
Takes on the power, hitting on where others fall by the wayside. The flavours are conventional enough but their density is in a league of its own. Apple, herbs, citrus and tropical fruits are all there in abundance. Partial barrel ferment is the key to its complexity and texture.
96 points | 2017 Stevens Road Cabernet Sauvignon
The combination here is one of coiled power and medium-weighted fruit. That's almost a contradiction in terms but it feels natural here. Bay leaf, blackcurrant, juicy boysenberry and clove flavours come drifted with wood smoke and dark chocolate. It warms to its task beautifully as it breathes in the glass, but remains a cool, elegant cabernet of genuine quality.
95 points | 2018 Xanadu Chardonnay
Excellent intensity and length. Green pineapple, stone fruit, steel and cedar wood flavours crash authoritatively through the mouth. No doubting its variety, no doubting its region. There's a piercing aspect to the finish but it brings flavour right along with it.
95 points | 2018 Stevens Road Malbec
From 11 rows of malbec on the Stevens Road Vineyard. Most of it goes to the Reserve Cabernet, but 100 dozen was kept as a varietal release. It sees 40% new French oak for 14 months. It tastes of cocoa and leather, jubey black cherries and bay leaves, and its filigreed tannins and wonderful length are about as clear quality sighters as anyone could hope to find.
94 points | 2018 Stevens Road Chardonnay
An elegant chardonnay showing freshness first and foremost. Although there's flint and there's funk, there's also flavour and there's a clip of quality oak. It moves confidently across all areas of the dance floor, the effect entertaining and satisfying. Linger of citrus-and-grapefruit-driven flavour on the finish is a particular highlight.
94 points | 2018 Xanadu Cabernet Sauvignon
Includes 92% cabernet sauvignon, 5% petit verdot 3% malbec; 4 weeks on skins, 40% new French oak for 14 months. Olive paste, gum leaf and blackcurrant flavours flow slowly into cedar wood and vanilla cream, the latter more texture than overt flavour. It sits at the upper end of medium weight, the flavours cruising through the mouth with confident ease.
93 points | 2018 DJL Cabernet Sauvignon
89% cabernet sauvignon, 6% malbec, 5% petit verdot. Grapes are sourced from the Wallcliffe (75%) and Wilyabrup. It offers attractive varietal flavours and has just enough sternness to give you confidence in its future. It tastes of blackcurrant, violet, eucalypt and milk chocolate, everything served in velvety form.
93 points | 2018 Exmoor Cabernet Sauvignon
Very good release. It tastes authentically of Margaret River and of cabernet. It's curranty, gravelly, smooth-skinned and fresh. There's a creaminess to its texture and a gum leaf lift to its aromatics. It's a wine that really improves as it rests in the glass, not that each glass lasts too long. There's value in spades to be had here.
91 points | 2019 Shiraz Graciano Rosé
'Gently pressed to minimise colour extraction' it says in the winemaking notes. That was successful, because this release is so pale in the glass it's more 'off white' than rose. Looking beyond that, there are attractive characters of watermelon and redcurrant on the bouquet, the palate showing juicy, sweet berried fruit upfront but finishing nicely dry.
SOLD OUT | SHOP 2020
91 points | 2018 DJL Shiraz
Floral characters and anise-like accents continue a most attractive theme. Good to go now.
90 points | 2019 DJL Chardonnay
It's lean in chardonnay terms but it's long, elegant and well put together. In fact comparing it with the Exmoor Chardonnay of the same vintage it's worth the extra money. Whispers of sweet oak and a palate rushed with nectarine-like flavour. It's a tamed version of Margaret River Chardonnay but it's a satisfying one.
90 points | 2017 Exmoor Cabernet Sauvignon
An assemblage of many parcels of contract-grown fruit that includes 4% pinot noir. Bright colour; blackcurrant and bay leaf are good, but then tannins appear and make protein highly desirable.
90 points | 2018 Exmoor Chardonnay
Stone fruit flavours (nectarine and white peach) are the drivers of a fresh wine that may well have bypassed oak, and is ready to drink now.
SOLD OUT | SHOP 2019