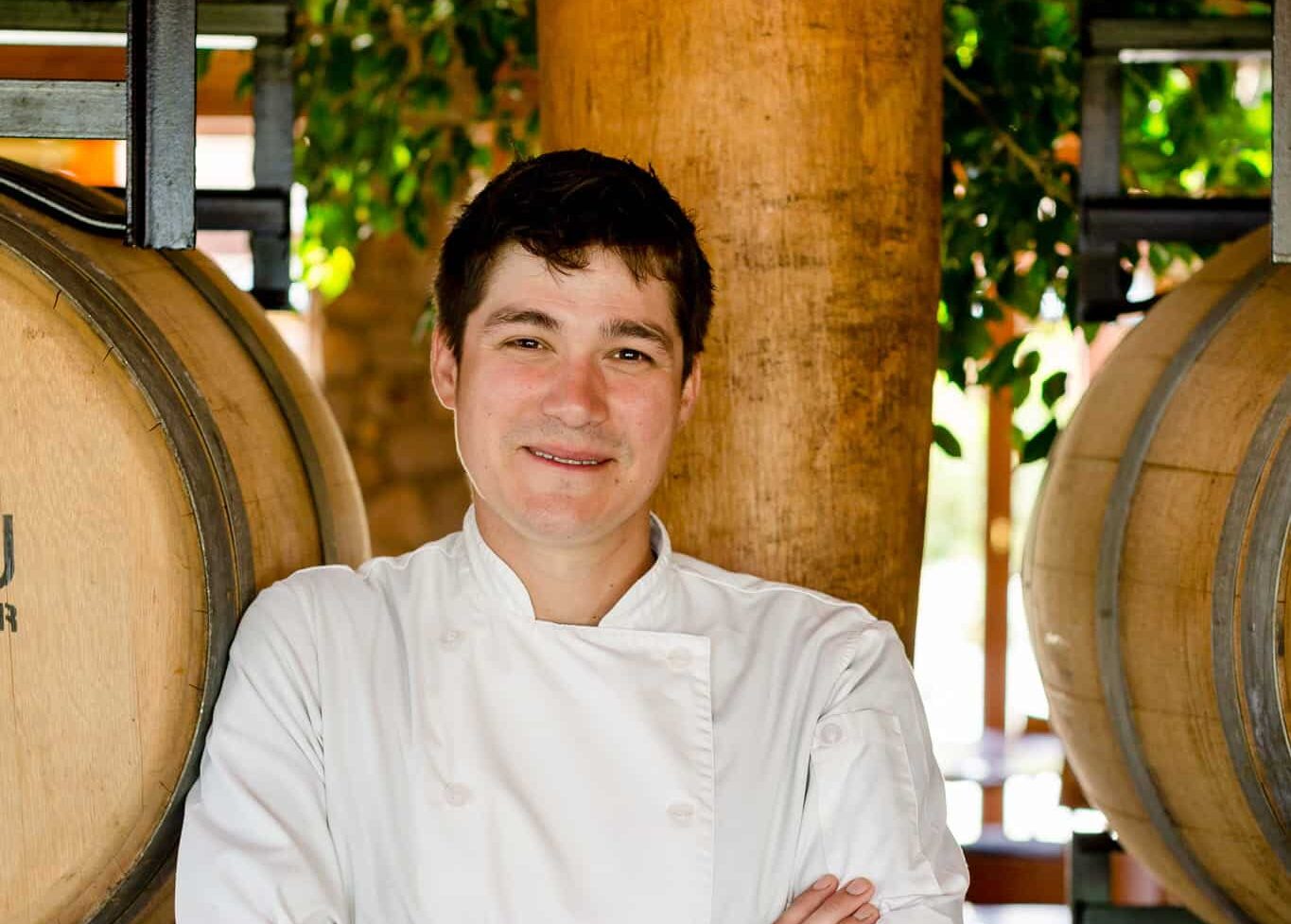 Venetian-born Andrea Gasparini's new menu is a creative fusion of flavour, produce and culture—a work of art from Xanadu's recently appointed Head chef. A seamless segway between modern Australian and Italian cuisine, Andrea has brought the quintessential dining experience to the iconic restaurant.
Before calling Margaret River home, Andrea perfected his craft at the 2 Michelin-starred restaurants Antica Osteria Cera— one of Italy's most renowned culinary experiences for seafood and the historically famed La Fontanini in Verona. Here he embraced the discipline, dedication and true finesse of fine dining.
However, growing up in the family kitchen profoundly influenced the dynamic chef's career in a way that only the authentic foods of your childhood can. "Every experience in my career has led me to where I am now as a chef, yet what inspired me the most was growing up surrounded by exceptional produce and witnessing its transformation into the most heavenly dishes."
"My family cooked food just for the pure pleasure of eating." The menu clearly expresses these sentiments, showcasing the incredible local produce interlaced with Italian notes and aromas to marry perfectly with the vibrant elegance of Xanadu's wines. Channelling this famiglia motto into his dishes, Andrea's quest is to treat Xanadu's guests to an extraordinary gastronomic expedition—paying homage to his homeland and ours.
How does this translate on the plate? Start fresh and flavourful from the sea; succulent Fremantle octopus wades gently in smoky potato foam with a sauteed mosaic of mirepoix and a dusting of paprika. From the land, tender, melt-in-your-mouth veal striploin accented with the delicate brininess of tuna, umami mushroom, and a garden-fresh peppery pop of nasturtium.
Meld into the mains with the impeccably juicy beef short ribs, dipped in a velvety dose of bagna cauda, sidelined with summery zucchini and the sweet coolness of mint. Or venture into the maritime with the catch of the day, with a light crowning of fish mousse enlivened with cucumber and the floral, salted lemony tang of a wakame and caper dressing. Vegetable heaven is a perfect partnership of savoy cabbage and a sweet earthy beetroot steak, coupled with the jammy complexity of caramelised onion and nutty buckwheat.
Sides are stars in their own right; charred sweet corn, buttery maple syrup, peppered with parmesan and paprika, rivals the potato and mayonnaise with shrimp and sesame salt. Cultures combine to bring your journey to a honeyed finale; nonna's almond cake, graced with chardonnay poached pear and crumble, will transport your tastebuds to reminisce and swoon. Then decadence arrives in the form of a dark chocolate parfait and plum pate de fruit.
Andrea's desire to bring the pure joy of food speaks clearly through his creations. His dishes tell the story of a chef intrigued by the world yet deeply indebted and connected to his roots. "My wish is to create exceptional food for the whole family. Seeing people experience the joy of eating together drives me to keep cooking and creating. Food reminds us of where we come from and where we belong."
Book a seat at our table – here