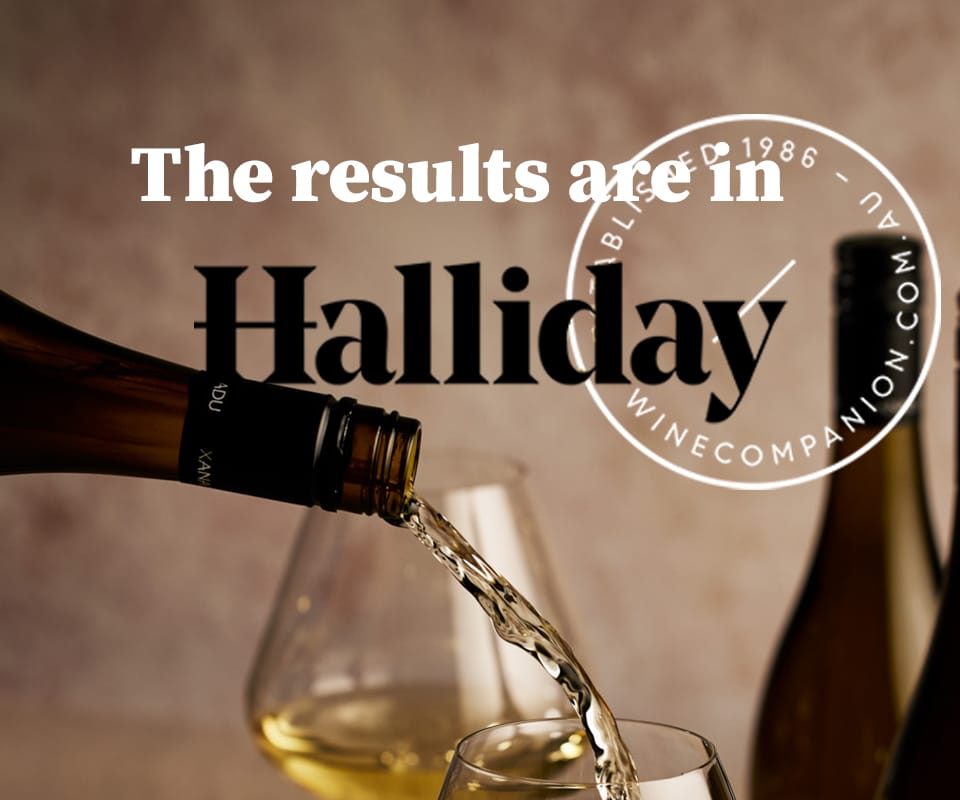 We are thrilled to share our 2023 Halliday Wine Companion results with you.
Alongside Glenn's exciting Halliday Winemaker of the Year accolade, Xanadu was also shortlisted for Best Value Winery of the Year and again, awarded a 5 Red Star Winery rating. Thank you to our reviewer Erin Larking and a huge congratulations to Glenn and our dedicated winemaking and viticulture team Brendan Carr, Steven Kyme, Rob Underdown and Darren Rathbone!
2019 Reserve Cabernet Sauvignon – 98 Points
92/4/4% cabernet sauvignon/malbec/petit verdot. Fruit from Wilyabrup, Treeton and the Steven's Rd vineyard. Matured for 14 months in French oak (45% new). Sometimes, you gotta start at the end of a wine, rather than the front. Usually it is because the wine is so long, that the first flavours are long forgotten. Such is life, here. The tannins, which are laced like a fine silky web through the finish, capture the pure fruit on the mid palate and coax it through the mouth. Caught also, like fine droplets of dew in a spider's web, are pockets of spice which add pop and thrill to the overall. Another scintillating and pure cabernet release from the team at Xanadu.
2020 Reserve Chardonnay – 97 Points
The problem with Xanadu Reserve Chardonnay is that it is delicious on release. But that has nothing on what it morphs into, with age. This is a wine that is all too often overlooked (not in the show system, granted) by collectors, because too few people have been privy to the wines in their middle age. A problem emerges: the wines are drunk too early and don't get the opportunity to show their full potential. This is crystalline, pure – almost austere – toasty and spiced, with layers of undulating flavour through the fine, spooling finish. A monumental wine of endless potential.
2019 Stevens Road Cabernet Sauvignon – 97 Points
100% cabernet sauvignon, fruit from Block 3 in the Steven's Rd vineyard. Matured for 14 months in French oak (40% new). Scintillating, pure, creamy, salty and layered, this is every bit as impressive as I expected it to be. Expectations can occasionally be cumbersome, in that they have the ability to get in the way of accurate and present assessment. But in this case, the reality exceeds the expectation, leaving only good things in its wake. The cooler year is viewed here through perfectly ripe fruit, and has imparted a freshness to the acidity that only serves to highlight the pristine character of the wine. Hyperbole aside: it's very, very excellent. The tannins are like silk.
2020 Stevens Road Chardonnay – 97 Points
This wine is pristine, and routinely defined by acid on release. It is soft, pithy and lush (that acid), and it is met by white peach and nectarine, red apple and lime flesh. Brine, cheesecloth and little pockets of pop-rock vibrancy. This is a beautiful wine, but it is even better with some age. The temptation to drink them young however, is overwhelming.
2020 Xanadu Cabernet Sauvignon – 95 Points
With 8/3% malbec/petit verdot. Matured for 14 months in French oak (40% new). Perfumed, pure and very pretty. The three 'p's' for success. In the mouth the wine is all that the nose promised, the very fine tannins curve and shape the fruit. Very smart. Tasted alongside wines 3+ times the price of this and it still held its own. The finish is creamy and svelte.
2021 Xanadu Chardonnay – 94 Points
The combination of Xanadu's staunch approach to mlf (it's banned) in chardonnay, together with the cooler '21 vintage, had my mouth puckering in anticipation. I needn't have bothered. This is acidic, sure, but in a taut, pert way, rather than an upfront pushy manner. The fruit that resides within is redolent of white peach and red apples, and the oak, as always, is slotted in carefully behind it all, framing the wine and shaping the carriage across the palate. This is pure and streamlined. It's becoming a habit at Xanadu.

2020 Xanadu Chardonnay – 94 Points
Whole-bunch pressed; wild-yeast fermented in French oak; lees stirred during 9 months' maturation; no mlf. There's nothing accidental about this wine. It's been assembled from the copious viticultural resources and with tight control of oak handling. Balance, length and freshness are its aces in the hole.
SOLD OUT
2020 DJL Malbec – 95 Points
2020 was a ripping little vintage. 'Little' is not intended in a pejorative – it was generally brutally low yielding, due to dry conditions at the end of 2019 resulting in a small crop of small berries. This in turn lends a firmness to the tannins. This is no problem for a naturally tannic variety like malbec, that simply takes it in its stride. This wine is polished, glossy, ripe, saturated in black and purple fruit flavours and propped up by a fine, mineral seam of saline acidity. Bring it on.
SOLD OUT
2020 DJL Shiraz – 95 Points
With 1% viognier. The vinification here very detailed, for a wine that is so inexpensive. Suffice to say, multiple batches treated separately, each with an intended role in the eventual blend. Matured for 14 months in French oak. This is a supremely delicious and pure wine that unapologetically displays the finesse and slink that is possible with the variety, when handled this way. A lot of words to tell you: this is a wonderful wine, and ridiulous(ly good) value for money.

2020 DJL Shiraz Graciano Rosé – 90 Points
Pure, juicy and bright with a vein of crunchy acid that courses through it. Strawberries, red apples, a sprinkling of black pepper and a strap or two of red licorice. There's a dusty, calamine and strawberry character that adorns both the nose and palate which I find intriguing, but it will likely be lost to the sands of time once the bottle hits the fridge. Great summer drinking.
SOLD OUT
Reviewed by James Halliday and Erin Larkin.